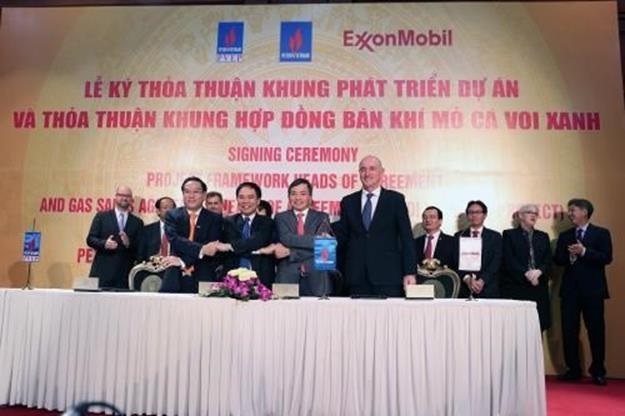 Deputy PM Vương Đình Huệ (second, left) and leaders of PVEP and ExxonMobil Việt Nam at the signing ceremony in Ha Noi yesterday for a US$10 billion project to build four natural-gas powered power plants.— Photo VNA
HÀ NỘI — Affiliates of oil and gas giants PetroVietnam (PVN) and ExxonMobil on Friday signed a US$10 billion framework agreement to build a power plant using natural gas extracted from the Cá Voi Xanh (Blue Whale) field in Quảng Nam Province.
The PetroVietnam Exploration Production Corporation (PVEP) and ExxonMobil Việt Nam signed the project agreement in Hà Nội in the presence of Deputy Prime Minister Vương Đình Huệ.
The two companies also signed a gas and power selling contract.
Speaking at the signing ceremony, Deputy PM Huệ appreciated efforts made by PetroVietnam and its US partner since they signed a production sharing contract (PSC) in 2009, including the completion of the latest framework agreement.
He said that to ensure comprehensive development of the Blue Whale gas and electricity complex, the Government and concerned ministries will direct national power utility Electricity of Việt Nam Group (EVN) and the Viet Nam National Oil and Gas Group (PetroVietnam, PVN) to quickly reach a framework agreement on buying and selling electricity generated by the project.
EVN and PVN have also been tasked with selecting investors for four power plants that will be fuelled with gas from the Blue Whale field, Huệ said.
"To achieve further success in the future, ExxonMobil and PetroVietnam need to continue efforts to pump the first gas flow by the end of 2023," the Deputy PM said.
The development of the Blue Whale gas project is expected to be an important contributor to developing the central region and to supply power to the south. In turn, this would create a momentum for development of the national petrochemical industry and an impetus for local industrial development, contributing to national energy security and creating more jobs in the region, Huệ said.
The framework agreement will lay a foundation for contractors to optimise the preliminary front end engineering design (Pre-FEED) and FEED work to achieve the project's targets.
In the first phase, the project will supply raw gas for four gas-powered plants with a total generation capacity of 3,000 megawatts. Two of the plants will be located in the Chu Lai EZ in Quảng Nam Province and two others in the Dung Quất EZ in Quảng Ngãi Province.
Gas production during the expansion phase will provide enough fuel for the fifth power plant with a capacity of 5,750 megawatts. The total investment for the project is estimated at $10 billion and it is expected to contribute nearly $20 billion to the State Budget. — VNS